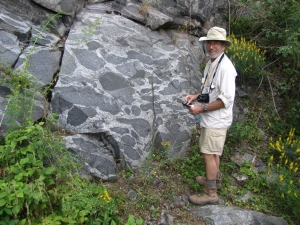 Bohemian Massif
General information
Field trip leaders
(given in order of the first appearance): Jiří Žák, Vojtěch Janoušek, Kryštof Verner, Jakub Trubač, Filip Tomek and Vladislav Rapprich
Contact and info
Vojtěch Janoušek, vojtech.janousek AT geology.cz
Dates
17–22 September 2023
Meeting place and time
 Prague, Sunday 17 September evening in the city centre (Hotel Luník)
Ending place and time
Prague, Friday 22 September 17:00 at the Prague airport, hotel Luník soon thereafter
Cost
650€. This includes the printed guide, accommodation in twin rooms (5 nights, Sunday-Thursday, i.e. excluding the possible accommodation after the field trip on Friday 22 September in Prague), food (5× breakfast, 5×packed/picnic lunch, 4× warm dinner – on Monday to Thursday) and transportation during the trip. However, the transport from Baveno to Prague, and transfer from Prague airport to the hotel before the trip, are not included. 
Min/Max number of participants
15/26
Description
The Bohemian Massif, the easternmost and largest inlier of the Variscan belt in Europe, is a type example of a large hot orogen littered by compositionally variable plutons. Diverse magmatic activity spanned the entire, more than 80 Myr long orogenic history from Late Devonian oceanic subduction through Early Carboniferous microplate collisions to final Late Carboniferous/Early Permian destruction of the orogen.
Recently, a huge body of modern petrologic, geochronologic, and tectonic data have accumulated from these plutons and their country rocks, having revolutionized our previous knowledge and bringing new, often conflicting interpretations. The Bohemian Massif thus has turned into a test piece of various models for syn-orogenic plutonism, with a wide appeal for the global geologic community.
The five-days grand tour across the Bohemian Massif will follow the orogen's tectonic development from the beginning to the end. We will start off in the Moldanubian Zone, the high-grade root of the Variscan orogen with the early arc-related calc-alkaline tonalites to granodiorites, continue to examine ultrapotassic plutons ('durbachites') in close association with HP–HT granulites enclosing fragments of the lithospheric mantle, and end up in late-orogenic S-type crustally-derived granites, in part connected with late-collisional granite–migmatite core complexes. Then we move to northern Bohemian Massif (Saxothuringian Zone) to explore the late-orogenic strike-slip-related I-type plutonism with spectacular magma mingling and flow features, a world-classic area where the concept of "granite tectonics" was formulated by Hans Cloos as early as in the 1920s. The last part of the tour will inspect the latest records of the late- to post-orogenic magmatic processes in the Bohemian Massif. Again in the Saxothuringian Zone, at the Czech/German border, we will focus on the largest S- to A-type volcano-plutonic complex, the Altenberg–Teplice Caldera exposing various volcanic rocks and shallow intrusives with related renown Sn–W–Li ore deposits.
Apart from its specialized leading theme, each day of the trip will offer beautiful landscapes, historic sights, as well as great Czech beer and cuisine in the evenings.
Scientific topics
Proterozoic–mid-Devonian supracrustal Teplá–Barrandian Unit
Central Bohemian Plutonic Complex: evolution of the Variscan arc from subduction-related magmatism to ultrapotassic syenitoids (355–336 Ma)
Moldanubian Zone: the high-grade root of the Variscan Orogen (~ 340 Ma high-T granulite massifs with mantle peridotite bodies, crustal relamination model), Eburnean (~ 2.1 Ga) heritage of the Moldanubian Zone
Syn- to post-collisional Moldanubian Batholith (I-type porphyritic Weinsberg suite, two-mica Eisgarn suite and migmatite–granite Pelhřimov Core Complex)
Late Variscan strike-slip-related I-type plutonism in the ca. 320–312 Ma Krkonoše–Jizera Plutonic Complex –  the classic Hans Cloos´ field area
Late-collisional S- to A-type volcanism of the Altenberg–Teplice Caldera and related Sn–W–Li greisen mineralization of the post-caldera granites (~314–312 Ma)
Program and itinerary
Day 0: Sunday 17th September: Arrival and meeting in Prague
Registration
Accommodation in Prague centre (included in the conference fee, dinner to be organized by each participant)
Day 1 – Monday 18 Sept.

Supracrustal Teplá–Barrandian Unit
Field stop 1: Štěchovice dam section
Introduction to the whole field trip and to geology of the Bohemian Massif, Neoproterozoic felsic volcanics of the Cadomian island arc, discussion of the Cadomian active margin processes and pre-Variscan history of the Bohemian Massif
Spatial and temporal development of a continental magmatic arc: the Central Bohemian Plutonic Complex (CBPC)
Field stop 2: Teletín, disused quarry
Variability and genesis of the ~355 Ma normal calc-alkaline plutons (Sázava suite) and magma mixing/mingling phenomena, intrusive fabric overprinted by regional tectonic deformation, discussion of collisional tectonics in the Bohemian Massif
Field stop 3: Kozárovice, working quarry
High-K calc-alkaline granodiorites of the ~346 Ma Blatná suite, magma mixing phenomena, syn-magmatic transpressional deformation
Field stop 4: Štědronín
Stoped blocks of the high-K calc-alkaline granodiorites mingled with microgranular enclaves in ultrapotassic pluton ('durbachite')
Dinner and accommodation Tábor

Day 2 – Tuesday 19 Sept.
Field stop 5: Tábor–Klokoty, disused quarry with geopark
~337 Ma post-tectonic syenitoids of the ultrapotassic Čertovo břemeno suite of the CBPC, origin from the enriched mantle source
High-pressure granulites in the Variscan orogenic root and their link to ultrapotassic plutons
Field stop 6: Plešovice, quarry
Normal Grt–Ky and hyperpotassic granulites with large zircon crystals – probable HP melts, fragments of garnet peridotites and other mantle-derived rocks
Variability of plutonic rocks in the southern Bohemian Massif: from Paleoproterozoic to late Carboniferous
Field stop 7: Rájov, road cut
The yet oldest rocks discovered in the Czech part of the Bohemian Massif: relics of the Eburnean (~2.1 Ga) tonalitic orthogneisses
Field stop 8: Sokolčí near Kaplice, rock outcrops
Introduction to the late-Variscan, post-collisional Moldanubian Batholith, one of the largest plutonic bodies in the entire Variscan belt: the I-type ~330–320 Ma Weinsberg granite with abundant xenoliths and K-feldspar phenocryst accumulations
Dinner and accommodation: Třešť chateau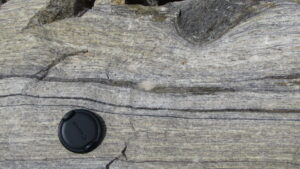 Day 3 – Wednesday 20 Sept. 
Late-orogenic low-P high-T crustal anatexis and S-type plutons in the orogen's interior
Field stop 9: Třešť chateau, Geopark
North gate to the Vysočina geopark. As part of the "Renaissance Region Against the Flow of Time" project, visitors to the castle park in Třešť can already get to know rocks from the region as well as from other parts of the Czech Republic and Austria
Field stop 10: Vanov, active quarry
Introduction to the post-collisional Pelhřimov core complex, a large-scale granite–migmatite dome in the Moldanubian Zone, transition from ~329 Ma migmatites (metatexites to diatexites) to S-type granites
Field stop 11: Rácov, active quarry
Magmatic stoping of ~329 Ma migmatite into ~327 Ma granite at shallow crustal levels, late basaltic dikes
Field stop 12: Lipnice, active quarry
Two-mica granites of the Melechov pluton, discussion of structure and sequential emplacement of the nested granite diapir
Dinner and accommodation: Bedřichov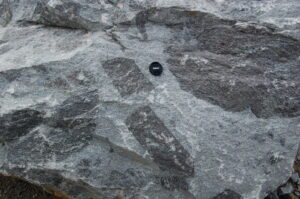 Day 4 – Thursday 21 Sept.
Late-orogenic strike-slip-related plutonism, complex interplay between magma chamber processes and regional tectonics
Field stop 13: Černá Studnice, active quarry
Introduction to late-orogenic plutonism in the Bohemian Massif and to geology of the Krkonoše–Jizera Plutonic Complex, Tanvald two-mica granite
Field stop 14: Hraničná, active quarry
Porphyritic Liberec granite with various types of mafic schlieren
Field stop 15: Bedřichov, tunnel
Excursion into the underground water-plant tunnel with exposures of mafic schlieren, enclaves, K-feldspar accumulations, dikes, and brittle fractures in the porphyritic Jizera granite
Field stop 16: Žulový Vrch, disused quarry
Hybrid granitoids resulting from magma mixing/mingling along an internal contact with enclaves and hybridization textures
Dinner and accommodation: Teplice
Day 5 – Friday 22 Sept.
Late-orogenic S- to A-type volcanism in the Bohemian Massif
Field stop 17: Vitiška, abandoned quarry
Introduction to the geology of the post-collisional ~314–313 Ma Altenberg–Teplice Caldera, a ~35×15 km S- to A-type volcano-plutonic complex. Pre-caldera rhyolite ash-fall tuff with tilted bedding and its significance for the interpretation of the trap-door style of caldera subsidence. Moderately-welded pumice- and crystal-rich rhyolite ignimbrite, discussion on its structure, directions of pyroclastic flow, and locations of eruptive vents.
Field stop 18: Vitiška, Pramenáč hill outcrops
Pre- to syn-caldera large-volume and high-grade ignimbrites. Discussion on structure, flow directions, vent locations, and post-emplacement rheomorphic folding. Cataclysmic caldera eruption, eruption style, and caldera subsidence mechanism.
Field stop 19: Cínovec/Zinnwald, mine
Emplacement of post-caldera resurgent granites within the caldera depression. Intrusive relations to the host ignimbrite. Structure of the fossil hydrothermal system, evolution of greisen Sn-W-Li deposit, and discussion on Li-mica prospection and possible mine re-opening.
Field stop 20: Kubo, active quarry
Non-welded, extra-caldera, pumice-rich rhyolite ignimbrite facies, a distal record of caldera eruption. Discussion on co-ignimbrite ash-cloud formation and deposition of related ash-fall tuffs as stratigraphic markers in Carboniferous basins of the Bohemian Massif.
End of the field trip in the afternoon/evening in Prague airport (accommodation in Prague not included in the fee but can be arranged upon request)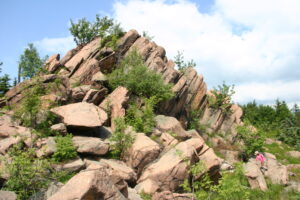 Practical information and logistics
Connection from/to starting/ending place
Transport from Baveno to be arranged individually by each participant.
Transportation arrangements
Large bus with driver to bring the group to the different sites
Accommodation
Accommodation in twin rooms (5 nights)
Documents & Equipment
Passport or ID-card valid for the Czech Republic (EU). All participants are requested to be equipped with adequate gear, including hiking boots, and waterproof jacket, as well as usual field equipment (hammer, hand-lens, field book). A reasonable level of fitness is required, because we will be visiting disused and active quarries. Expect up to 5 km of moderate walking on rough ground during some of the field days.
Other information
Weather/climate: The weather in second half of September is usually mild (up to ~20 ºC, on average ~15 ºC during daytime). We may enjoy sunny period of the Indian summer, but sudden showers or more persistent rain may also occur, so please do not forget waterproof/windproof jacket.
Currency: The Czech Republic is a member of EU, but has not joined the monetary union yet. For this reason, you will need to exchange some money (USD or EUR) to Czech crowns (CZK).
Contact information
vojtech.janousek@geology.cz