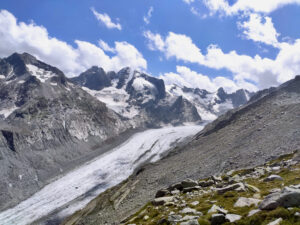 Adamello
Download the field guide: Hutton-field-trip-Adamello
and related map: Hutton-FT-Adamello-A3-map-fig-37
General information
Field trip leaders
Peter Ulmer and others (Othmar Müntener?, Peter Brack?)
Contact and info
Peter Ülmer, peter.ulmer AT erdw.ethz.ch
Dates
6 – 9 September 2023
Meeting place and time
Departure 6 September at 10:00 – 14:00 from Milano Malpensa Airport and Bergamo Airport / train station (1 bus to Malpensa, 2 buses to Bergamo), arrival around 18:00 at Gaver (Hotel Blumon Break) or Passo Croce Domini (Rifugio Passo Crocedomini).
Ending place and time
Return 9 September from Passo Croce Domini / Corna Bianca to Baveno (Hotel Dino), arrival late afternoon.
Cost
450€
Min/Max number of participants
Max. 21 participants
Description
The Tertiary Adamello igneous complex – An Alpine subduction related shallow crustal level plutonic complex. During this field trip, we will explore the southern portion of the 43-33 Ma old (Eocene) Adamello igneous complex on the border between Lombardy and Trentino (Northern Italy).
Scientific topics
Incremental pluton emplacement and assembly
differentiation and assimilation mechanisms from ultramafic cumulates to intermediate/acidic differentiates
magma mixing and mingling of gabbroic and intermediate plutonics
deformation, interaction with country rocks; South Alpine thrust belt versus Eocene Adamello intrusions
forceful and "passive" emplacement of magma batches at upper crustal level
origin and evolution of calc-alkaline magmas
contact metamorphism, thermal constraints on mode of magma emplacement
Program and itinerary
Day 1 – Wednesday 6 Sept.
Travel by mini-van from Malpensa (Milan) / Bergamo – Brescia – Bagolino – Val Caffaro. Introduction to the Adamello complex. When early enough overview over Southern Adamello and/or nearby visit of Permian volcanics.
Accommodation: Blumone-Break, Gaver or Rifugio Passo Croce Domini, double to 4-bed rooms, dinner.
Day 2 – Thursday 7 Sept.
Hike from Passo Crocedomini – Monte Mattoni – Passo Val Fredda – (Monte Frerone) – Passo della Vacca. Themes:  Folded Middle Triassic sediments with contact metamorphic overprint crosscut by intrusions. Contemporaneous gabbroic sheets (hornblenditic to hornblende gabbro) and intermediate (tonalite) plutonic rocks of Val Fredda – Mattoni – Cadino area, deep versus shallow differentiation and assimilation, magma mixing/mingling, syn- and post-plutonic acidic and (primitive) mafic dykes.
Accommodation: Rifugio Tita Secchi at Lago della Vacca, dormitories, dinner, breakfast and lunch package.
Day 3 – Friday 8 Sept.
Hike from Lago della Vacca – Passo Blumone – Listino Ring structure: Gabbro-diorite-tonalite suite of the Blumone complex (subvolcanic magma system) and the Lago della Vacca area; Listino Ring structure: syn-intrusive deformation, incremental emplacement and "cannibalism" of partially crystallized gabbroic cumulates by intermediate magmas.
Accommodation: Rifugio Tita Secchi at Lago della Vacca, dormitories, dinner, breakfast and lunch package.
Day 4 – Saturday 9 Sept.
Lago della Vacca area: Blumone intermediate plutonics, complex pluton assembly, interaction with gabbroic cumulates, primitive post-plutonic dikes, ultra-high temperature contact metamorphism. Hike to Corna Bianca, transfer by mini-van to Baveno
Practical information and logistics
Connection from/to starting/ending place
Pick up will be organized the 6th. at Milano Malpensa and Bergamo airport / train station. participants will be droppend directly at the conference site in Baveno the 9 Sept.
Transportation arrangements
Transport from site to site by Mini-vans (8 seats)
Accommodation
1 night in double to 4-bed rooms in a hotel/rifugio, 2 nights in dormitories. Only linen sleeping bags are needed in the mountain hut (rifugio). Full board with lunch packages.
Equipment
In addition to usual field equipment (hammer, hand-lens, field book), participant must bring solid hiking boots, sun protection / sunglasses, warm clothing and a wind and waterproof jacket. Euros for drinks, camera is recommended. Passport or ID-card valid for Italy.
Other information
The field trip includes hiking in mountain areas up to 2800m altitude and partly in rough terrains. A reasonable level of fitness is therefore expected from the participants. Once area is reached, transfer will be mainly on foot (hopefully with sunny weather, but be prepared for any kind of weather, including rain or snow).
Contact information
peter.ulmer@erdw.ethz.ch