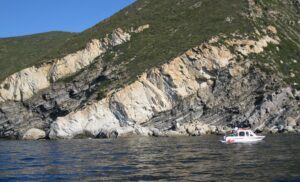 Elba Island
Download the field guide: Hutton field trip_Elba Island_final
General information
Field trip leaders
Federico Farina (University of Milano), Sergio Rocchi (University of Pisa) and Andrea Dini (CNR, Pisa).
Conact and info
Federico Farina, federico.farina AT unimi.it
Dates
17 – 21 September 2023
Meeting place and time
Sunday 17, Pisa train station (Pisa Centrale), 9 am
Ending place and time
Thursday 21, Pisa (downtown/train station or airport) at 5 pm.
Cost
550€
Min/Max number of participants
Max 20 participants
Description
Located in the northern Tyrrenhian Sea, Elba Island is a beautiful destination holding a complex geological evolution that started with the stack of five tectonic complexes during the Apennine orogeny and was successively affected by extensional tectonics during the late Miocene. This latter event resulted in the emplacement of two independent shallow-level magmatic suites that allow a thorough investigation on the mechanisms of emplacement and on the architecture of upper crustal felsic magma reservoirs. Moreover, Elba Island is especially famous worldwide for its iron deposits and for the pegmatitic minerals from Monte Capanne pluton, whose generation and relation with the magmatism will be discussed in the field.
In the central and western portions of the Island, a prime example of a late Miocene shallow-level intrusive complex is exceptionally preserved. This includes a sheeted monzogranitic pluton, multiple multisheet laccoliths and extensive dyke swarms emplaced over a time span of about 1.5 Ma. Shortly after the intrusive sequence was assembled, the upper part of the igneous system was tectonically translated eastward leading to the serendipitous exposure of a 5-km-thick crustal section. In this area, we will be able to observe the internal structure of shallow-level intrusions and their contact with the host.
In eastern Elba Island, a shallow crustal level felsic, tourmaline-bearing, dyke-sill swarm of Late Miocene age is associated with abundant tourmaline-quartz hydrothermal veins and metasomatic masses. In this part of the Island, it is well-preserved the uppermost part of a magmatic-hydrothermal system, with formation of boron-rich veins and breccias and skarn iron deposits.
Scientific topics
Incremental pluton emplacement and assembly
Emplacement of laccoliths, dykes and sills
Relationship between magma emplacement and regional geology
Magma mixing/mingling
Formation, evolution and emplacement of aplite-pegmatites
Genesis of tourmaline-quartz hydrothermal veins and skarns
Program and itinerary
Day 1 – Sunday 17 Sept.

Pisa-Marina di Campo (Elba Island)
Leaving Pisa at 9 o'clock, we will reach the port in Piombino at 11:00. From Piombino, we will take the ferry to Portoferraio (Elba Island) at 11:30 to reach destination at 12:30. From Portoferraio we will drive to Marina di Campo (20 minutes). Accommodation in Marina di Campo in double room (upon request single rooms will also be available). In the afternoon: Introduction to Elba Island geology. 
Day 2 – Monday 18 Sept.
Topic: The multilayer laccolithic complex of central Elba.
The Western-Central Elba Laccolith Complex is built-up by an intrusive sequence emplaced between ca. 8 and 7.4 Ma. We will visit outcrops of the three main intrusive units and recognize the geometry of the nested multi-layered laccoliths and the relation between the subvolcanic rocks and the hosting flysch.
Morning: boat trip in the Marina di Campo Bay. Afternoon: the Capo Bianco tourmaline-bearing aplite, the Portoferraio porphyry and the K-feldspar megacryst-bearing San Martino porphyry. 
Day 3 – Tuesday 19 Sept.
Topic: The incremental assembly of the Monte Capanne pluton and the late-plutonic mafic dyke swarm.
The Monte Capanne pluton (ca. 7 Ma) has a monzogranite-granodiorite composition and consists of three intrusive units, which were defined based on their content of large K-feldspar crystals (megacrysts) and that show minor but distinctive chemical features. We will visit outcrops of the different intrusive units and discuss the internal architecture of the pluton. In the northern part, a spectacular mafic enclave swarm and complex mingling textures can also be observed. A swarm of mafic dikes with a mapped cumulate length of ca. 80 km crosscuts the pluton and the laccolith complex. These dikes and their relation with the host will be observed in a few selected outcrops.
Morning: The megacryst-rich Sant'Andrea unit and the felsic Cotoncello dyke, the late-plutonic Orano mafic dyke swarm. Afternoon: the megacryst-poor San Piero unit, felsic dikes in the Monte Capanne pluton:  leucogranites and pegmatites. Dinner at San Piero in Campo and after-dinner visit to the mineralogical Museum (MUM), where nice specimen from the famous Elba island pegmatites are in display.
Day 4 – Wednesday 20 Sept.
Topic: The Eastern Elba pluton-sill-dyke complex and iron ores
Several generations of leucogranitic dykes and sills crop out in the south-eastern part of island. These tabular bodies are either coarse-grained or microgranitic and are characterized by the ubiquitous occurrence of tourmaline. Hydrothermal tourmaline-quartz veins cut across dykes and sills and represent a late hydrothermal event affecting both the intrusive and hornfels rocks. We will visit outcrops in which the relation between magmatic dykes, hydrothermal boron-rich veins/breccias and metasomatic masses are apparent. Along the eastern cost of the island were exploited several iron deposits (hematite-pyrite; magnetite-hematite and pyrrhotite-magnetite) that are locally associated with distal hedenbergite-ilvaite skarn bodies. We will visit the Ginevro mine and discuss the link between the emplacement of the poorly exposed Porto Azzuro pluton and the formation of the ores.
Morning: Relationship between tourmaline-bearing leucogranitic dykes and tourmaline-quartz hydrothermal veins. Observation of complex internal structures in leucogranitic dikes and formation of "line-rock" in aplites. Afternoon: Skarn-bearing isotope deposits.
Day 5 – Thursday 21 Sept.
Topic: Relation between granite emplacement and regional tectonics
The late Miocene to early Pliocene Zuccale  low-angle normal fault was one of the principal structures active during extensional collapse of the Apennine fold-and-thrust belt. We will visit an outcrop that elucidates the relationship between the extensional tectonics and the intrusion of igneous bodies.
Morning: the Zuccale normal fault and the Porto Azzurro pluton. After luch we will leave the island heading back to Pisa, where the field trip will end at ca. 17 o'clock.
Practical information and logistics
Connection from/to starting/ending place
Each participant have to organize its own travel from Baveno to Pisa on Saturday. Pisa can be reached by plane from Milano Malpensa or by train starting from Baveno. The organizers will help the participants to organize their trip to Pisa and, if required, find an accommodation for them in Pisa for Saturday night (these costs are not included in the field trip fees).
Transportation arrangements
Transport will be organized with mini-van, maximum 3, total persons 24 including field trip leaders (max 20 participants).
Accommodation
Equipment
Geologist's starter pack: Hiking boots, hand-lens, hammer, awkward unfashionable clothing, bottle of pastis / wine / whatever else you like
Other information
Contact information
federico.farina@unimi.it