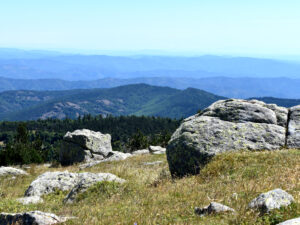 Massif Central
Download the field guide: Hutton-field-trip-Massif-Central
General information
Field trip leaders
Oscar Laurent (CNRS, Géosciences Environnement Toulouse, France), Pierre Bouilhol (CRPG Nancy, France), Alain Chauvet (CNRS, Géosciences Montpellier, France)
Contact and info
Oscar Laurent, oscar.laurent@get.omp.eu

Dates
4 – 9 September 2023
Meeting place and time
Monday 4 September 2023 – either Lyon (Saint-Exupéry Airport LYS / Lyon Part Dieu train station) in the morning (08:30–11:30) or Montpellier (Airport MPL or Montpellier Sud de France train station) in the afternoon (14:00–17:00).
Ending place and time
Saturday 9 September 2023 – Baveno, Hotel Dino (5-6 pm)
Cost
Cost is 580 €. The price is all-inclusive (accommodation for 5 nights, food, transportation during the trip, final transfer to Baveno by train, printed field guide).
Min/Max number of participants
Minimum 15 and maximum 21 participants
Description
This field trip will take you to a journey through the Variscan crust of the eastern French Massif Central in the Carboniferous, offering the opportunity to investigate the anatomy of a crustal-scale, late orogenic magmatic system. We will examine the different structural levels of this system from the near surface to the mid-crust, starting from shallow granite plutons, associated sub-volcanic rocks, lamprophyres and hydrothermal systems; and progressively travelling deeper through the transition with mid-crustal migmatites; eventually to the heart of the famous Velay complex, Europe's largest diatexite-granite dome. This will also lead us to discuss the nature of the complementary, lowermost crust, not directly exposed in this area.
We will investigate the genetic and structural links between all these components; the processes of melt generation and transfer at all spatial and temporal scales; the role of mantle-derived magmatism; and the implications for the genesis of ore deposits. Eventually, this will lead us to discuss the importance of late-collisional magmatism for the genesis, reworking and stabilization of the continental crust in the context of Phanerozoic plate tectonics.
The field trip will take place in the scenic southeastern French Massif Central, home of the Cévennes National Park and UNESCO Monts d'Ardèche Geopark renown for their unique geological heritage and preserved wilderness. In addition to visiting fascinating outcrops, you will discover a region of beautiful landscapes, traditional small villages, clear mountain streams, picturesque winding roads and experience the local hospitality and taste for invigorating country food. We are looking forward to welcoming you in Massif Central!
Scientific topics
Magma chamber processes and mush dynamics in shallow granitoid plutons ; relations with volcanism / ore deposits
Sources of granitoid magmas and the relative importance of crustal melting vs. differentiation of mafic, mantle-derived magmas
The formation of large migmatitic domes: role of pre-existing crustal lithologies, melting reactions, nature of the complementary lower crust
Link between late-collisional magmatism and orogenic collapse
The role of late-collisional magmatism in the genesis and differentiation of the continental crust
Program and itinerary
Day 0 – Monday 4 Sept.
Arrival and transfer from Lyon / Montpellier to Cévennes area
Icebreaker and overnight in Saint-Roman de Tousque

Day 1 – Tuesday 5 Sept.
The Mont Aigoual pluton. Interactions between silicic and mafic magmas ; their role in the composition, evolution of shallow granitoid plutons and associated volcanism.
Overnight in Saint-Roman de Tousque

Day 2 – Wednesday 6 Sept.
The Mont Lozère pluton. Emplacement of a composite pluton, the magmatic-hydrothermal transition and the link with gold and other ore deposits.
Overnight in Villefort
Day 3 – Thursday 7 Sept.
The southern margin of the Velay migmatite-granite dome. Structural and metamorphic record of a mid-crustal melting front, from low-grade country rocks to metatexites ; nature of the pre-Variscan source lithologies and their role in melt production during the Carboniferous event.
Overnight in Beaumont

Day 4 – Friday 8 Sept.
The core of the Velay migmatite-granite dome and glimpses to the lower crust. Petrology of the Velay migmatites and granites ; dynamics and timescales of melt production and extraction ; nature of the melting reactions and lower crustal complementary restites.
Overnight in Beaumont

Day 5 – Saturday 9 Sept.
Transfer to Baveno by bus.
Practical information and logistics
Connection from/to starting/ending place
Transport to Baveno after the field trip will be organized by train (ca. 6 hours with one change in Milano) and is included in the cost. ETA in Baveno is around 6:30 to 7:30 pm on September 9th.
Important notice: accommodation in Baveno on the evening of September 9th is NOT included in the field trip price!
Transportation arrangements
Transport from site to site will be done with 9-seater minibuses (Max. 3 minibuses / 21 participants)
Accommodation
Dinner, overnight and breakfast in hiking lodges, country hotels and campsites (mainly single or double rooms). Lunch packages provided.
Equipment
Usual field equipment (hammer, hand-lens, field book…). The trip will visit hills / high plateaus (900–1600 m asl) but only short walks/hikes are planned, most outcrops lying along roadsides and riverbeds – light field boots / running shoes are sufficient. Basic equipment must also include sun protection, warm clothes and waterproof jackets. Several outcrops are located next to beautiful swimming holes in (cold) mountain streams, consider packing a swimming costume. Car sickness may be an issue as the trip involves frequent drives on curvy mountain roads! Passport and/or ID-card + valid EU Visa for non-EU residents are required.
Contact information