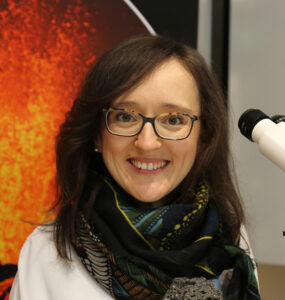 Teresa Ubide
Junior keynote speaker
University of Queensland
Teresa Ubide is an Associate Professor in Igneous Petrology/Volcanology at The University of Queensland, Australia. She develops high-resolution geochemical techniques to interrogate magmatic crystals and their carrier melts, providing a better understanding of magma transport and storage through the Earth's upper mantle and crust. Her research combines crystal and melt archives to constrain magmatic processes in space and time, with a particular focus on the drivers of volcanic eruptions.
Teresa Ubide's keynote:
Session
Theme 3: Architecture of crustal magmatic systems and rate of magmatic processes

This theme addresses the physical shape and connectivity of magma networks at all scales, from the crust to the grain boundary and from the source to the volcano, including the plutonic-volcanic connection. We will discuss the rates of processes such as melting, melt extraction, magma motion, pluton accretion, eruption, as well as the mechanical and chemical drivers of them.